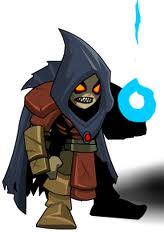 Nulgath Larvae is a pet that is obtained in the 'Hire Nulgath Larvae' quest. When clicked on, this pet will give two quests, 'Mana Energy for Nulgath' and 'Fighting Pheonix Blade of Nulgath'.
Location: N/A                                                                                                     Price: N/A (Obtained from Drudgen the Assistant, 'Hire Nulgath Larvae' quest)                             Description: What's that you say? Well, I simply used some extra souls I had to create this mini version of me.
Previously called 'Mini Miltonious'.

The blue flame in hand bursts and reveal the word Miltonious Nulgath.

Gives Nulgath Larvae quests when clicked on the face.

Pet is Member only.